Even though the closest salt water beach is about 450 miles away from Nashville, our fine city can still find itself reeling from the effects of hurricane season. At this very moment, we're right in the middle of the 2017 hurricane season.
Earlier this year, the National Oceanic and Atmospheric Administration (NOAA) predicted that the Atlantic could see yet another "above normal" hurricane season. "Forecasters predict a 70 percent likelihood of 11 to 17 named storms (winds of 39 mph or higher), of which 5 to 9 could become hurricanes (winds of 74 mph or higher), including 2 to 4 major hurricanes (Category 3, 4 or 5; winds of 111 mph or higher). An average season produces 12 named storms of which six become hurricanes, including three major hurricanes."
It seems like we're off to a strong start. Although the season officially began on June 1 and ends on November 30, the first storm system, Tropical Storm Arlene, formed on April 19 and already we've experienced 5 tropical depressions.
Let's just hope for the sake of Nashville's sweet Vince Gill that we don't make it to Hurricane Vince, potentially the 20th named storm of the year.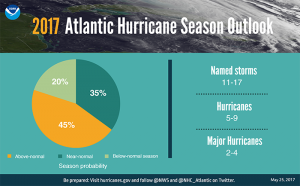 Image Source: NOAA
What Hurricane Season Looks Like in Nashville
While we won't see the worst of the mighty storms' winds, hurricane season still means flooding season here in Nashville. In fact, some of the most damaging floods occur hundreds of miles inland, far from the ocean's salty shores. Since meteorologists began tracking hurricanes well over a hundred years ago, Nashville has been impacted by dozens of hurricane-force storms which brought damaging winds and heavy rainfall, which lead to flooding.
In 2008, winds from Hurricane Ike toppled a tree and killed two men at the Hermitage Golf Course. In 2003 and 2004, Tropical Storm Bill and the aftereffects of Hurricane Ivan drenched East Tennessee in rains. In 1995, Hurricane Opal wreaked more than $2 million in damages on the Volunteer State (FEMA).
In June, Tennessee felt the effects of Tropical Storm Sandy, Weather.com reported "Remnants of the storm moved into Tennessee on Friday, knocking down trees and prompting power outages. According to Memphis Light, Gas and Water, nearly 10,000 customers were without power Friday morning. In Memphis, workers cleared storm drains to help prevent street flooding. Officials with the Tennessee Emergency Management Agency said its operations center in Nashville will be staffed Friday and Saturday, and the West Virginia Division of Homeland Security and Emergency Management said it is ready to receive requests for help. Authorities with the Tennessee Valley Authority in Knoxville said they were lowering water levels on nine lakes along the Tennessee River to reduce the threat of flooding."
How to Prepare for Flood Season
If you live in Tennessee, you know that when it rains, it really, really rains. It pays to be prepared for the worst, in the hopes that it never happens.
Become a Weather-Watcher
It's always important to play close attention to weather forecasts, but during hurricane and tornado season, is especially important to heed flood-related advisories and flash flood warnings. Download a weather app on your phone and sign up for alerts. We recommend Weather Underground — you'll love the hyper-local forecasts.
Fix a Kit
Be sure to have an emergency kit stocked and ready to go. If you're in an area prone to flooding, you may also want to develop a list of valuables, sentimental or monetary, that you can't imagine living without. That way you can grab and go. To find out if your Nashville-area home is included in the most recent FEMA floodplain, check out this interactive FEMA floodplain viewer.
Protect Your Investments
If you own a boat or several vehicles, make sure you prepare your boat for severe weather and that your vehicles are adequately insured.
Get Flood Insurance
Yes, we're in the insurance business, but this is a big one: GET FLOOD INSURANCE. While your homeowners policy covers a good many things, it doesn't cover damage from flooding, water damage, or mold remediation caused by flooding. To learn more about the importance of flood insurance, read our post, "Does Homeowners Insurance Cover Flooding?"
Take care and be safe! Feel free to contact Royce Williams Insurance for more information on flood insurance.